Banjo Catfish.
Bunocephalus species and their close relatives.Family:
Aspredinidae
Scientific name
:
Bunocephalus colombianus, Bunocephalus coracoideus, Pseudobunocephalus quadriradiatus, Pterobunocephalus dolichurus
Maximum size:
varies by species
Range:
Colombia, Paraguay, Peru, and various locations in the Amazon
Common names:
banjo catfish
Bunocephalus colombianus.
 Maximum size: about 5.5"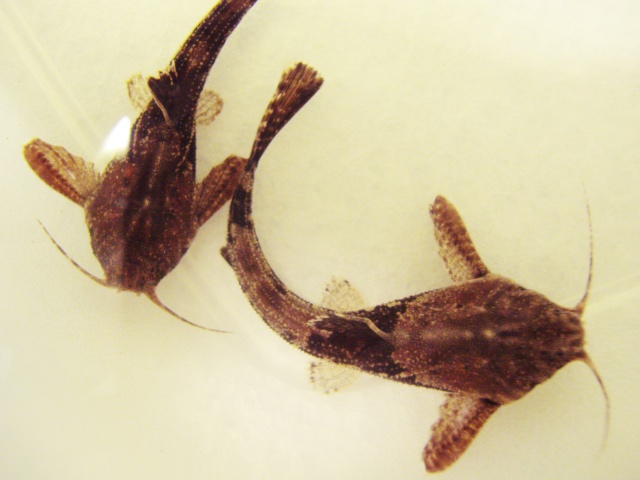 Bunocephalus colombianus photo by Deb
General:
Banjo catfish are long and thin, with a flat body, wide head, and thick, craggy-textured skin.  One of their Spanish nicknames is "Guitarrita," referencing their general shape which suggests a stringed instrument, like a guitar or a banjo.  
Maintenance:
There are a number of banjo catfish in the hobby which can be kept in average aquarium conditions.  Soft river sand is a good substrate for them, because they will hide in it by day and search through it for food at night.  Many banjo catfish like to hide under a layer of leaf litter or under an overhanging flat rock, so structuring the decor around these needs will go a long way to making them feel at home.  They will typically hide under each other if no other choice is offered.
Note:
Maintain the substrate carefully to avoid poking or harming these catfish.  
Banjo catfish are not competitive eaters so keeping them with other bottom feeders may not be the best combination.  That said, mine live with
Corydoras
,
Panaqolus
(clown plecos), and
Chaetostoma
(rubberlip plecos) catfish and all seem to be doing well.  The main thing is to plan the community carefully and feed accordingly so that your banjo catfish get enough to eat.      
Bunocephalus coracoideus.
 Maximum size: just over 6".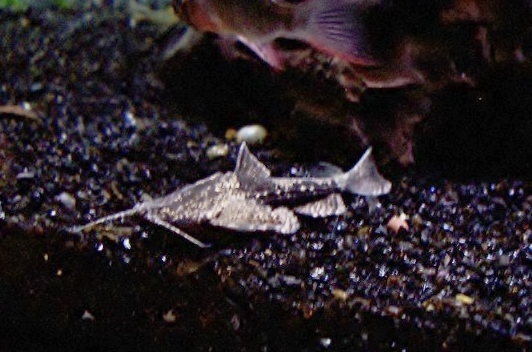 Bunocephalus coracoideus photo by Ron
Behavior:
In the aquarium, the banjo catfish is a good citizen.  They do not chase or harass other fish nor do they have any other bad habits.  They remain buried, or partially buried, most of the time and keep very still.  More than once I have picked one up mistaking it for a wood shard or twig.  They will stay perfectly still and you might think they are dead.  However, once they are released they hurtle away at top speed and bury themselves again.
Note:
If you pick up a banjo catfish accidentally, be careful not to squeeze it or otherwise injure it.  Anytime you pick up anything in an aquarium that has banjo catfish in it, do it very carefully.  In other words, assume it's a banjo until you determine it's not.    
Scientific:
 The family of banjo catfishes, Aspredinidae, contains 32 recognized species in 13 genera, three of which appear on this page.  Their general appearance and certain scientific research suggests that they might be related to the Asian superfamily of Sisoroidea, the Asian hillstream catfishes.
Interesting:
Banjo catfish do not have scales.  Instead they have thick, rough skin, which they may shed.  This is normal and may happen on a regular basis.  
Which one?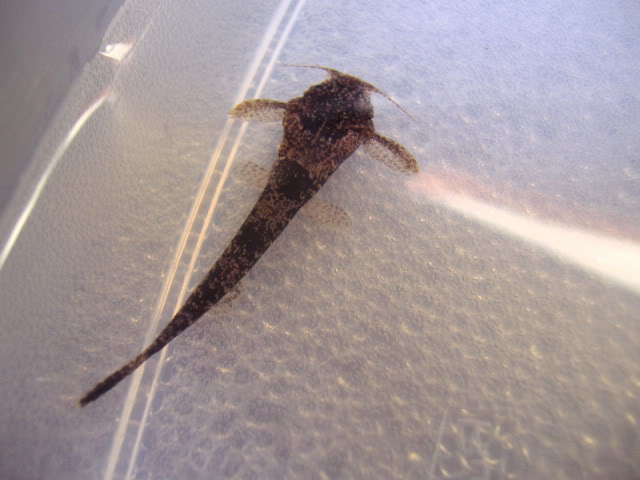 photo by Deb
The banjo catfish shown above is either
Pseudobunocephalus quadriradiatus
or
Pterobunocephalus dolichurus
, also called the ghost banjo catfish.  The 45 mm (1.75") size at purchase, as well as certain behaviors, suggests the
Pterobunocephalus
, but the very small head and elongated body suggest the
Pseudobunocephalus
.  A good photo from the side showing the caudal fin is needed for a positive ID.    

This is an article in progress. If you have these or any other species of Banjo Catfish in your aquarium, or have had them in the past, please post about your experiences here. If you have a helpful photo, please post it.