Clown plecos
Panaqolus maccus, Panaque maccus
Family:
Loricariidae
Scientific name:
Panaqolus maccus
Synonyms:
Panaque maccus, L104, L162
Maximum size:
<4" (10cm) SL
Range:
Venezuela, Rio Orinoco Basin
Common names:
Clown pleco
Panaqolus maccus clinging to a piece of wood by the outflow.
General:
Clown plecos are a small suckermouth catfish from the Orinoco River Basin in Venezuela.  They are usually a dark chocolate brown color with light orange vermiculations (wormy or squiggly lines) on the face, and light orange bands on the body.  On light colored sand, the body color may look lighter; seen against dark wood, they are a true chocolate brown.  Clown plecos may grow to just under four inches long, SL, which is "standard length" and includes from the tip of the nose to the base of the tail (caudal fin).  The upper and lower lobes of the tail fin develop quite impressive extensions, in some animals, adding a further half inch or more to the total length.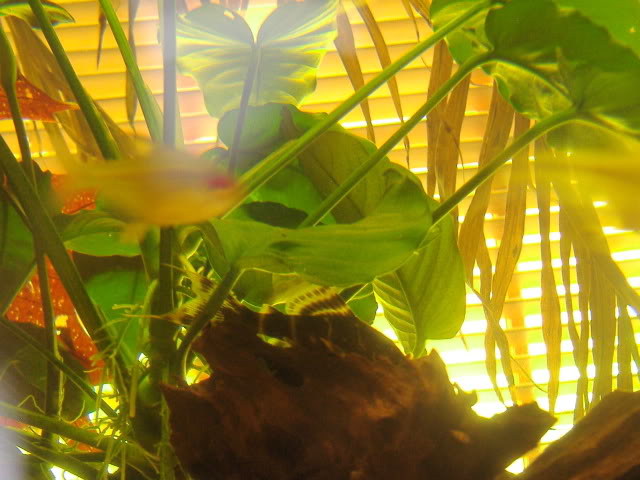 A nice moment in the early morning.  Note the long tail extensions.
Clown plecos are not very active in the aquarium, preferring to retire to their dens, which they carve out for themselves by digging a trench under a nice piece of wood, and making a cave, or by selecting a niche or narrow corridor which they may find somewhere in the wood.  Anywhere on a piece of wood may be a den or a territory that needs to be protected.  Individual clown plecos can live quite close together as long as they don't see each other or interfere with each other.  For this reason, a lot of wood structure is important to a group set-up.
Maintenance:
Clown plecos are fairly easy to take care of in our typical aquarium water.  In nature they are found in Andean (Andes Mountains) whitewater rivers, holed up in the driftwood tangles which collect on riverbanks and in the clearwater streams which are part of this river system.  This explains why they do so well in water that has a low mineral content but a neutral or higher pH, like my tapwater.  
Even though they have a suckermouth, do not rely on the clown pleco to eat algae.  They do not eat it and will only graze over it if they are starving.  A starving
P. maccus
is a sad sight: the abdomen becomes concave and the "lips" dry and paper thin.  Feed them a quality veggie wafer, which is an omnivore's diet, and supplement with veggies such as zucchini, sweet potato, garden green peas, and apple slices.  Wood is essential to this animal's diet, see
Wood Eating
, below.  
Behavior:
Clown plecos are a well-behaved catfish.  For a single specimen, a small ten gallon tank with a lot of wood structure is fine.  It will carve out a den and occupy it, not knowing how big or small the tank really is.  Clowns are territorial, and will defend their immediate area against intruders.  However, this territoriality applies primarily to its own species or similar
Panaqolus
relatives.  My first clown pleco, Mac, allowed tiny habrosus corys into his den, and even "shared" food with no problems at all.
A single will live long and do fine on its own, but a large group of
P. maccus
is even better.  These days, I keep a group of eight in a 75 gallon tank with lots of wood structure.  I began with three juveniles in 2009 and have built the colony since then.  Each of the little plecos has their own piece of wood and defends it against the others.  If one of them strays into another's territory, a small skirmish breaks out but no harm is done.  I have seen them face off against each other, and I have seen two huddled in the same den - presumably male and female.  In a heavily structured tank, like the 75, it is not always possible to see what's going on or who is who.  To observe courtship and mating behavior, a smaller, dedicated species tank is needed.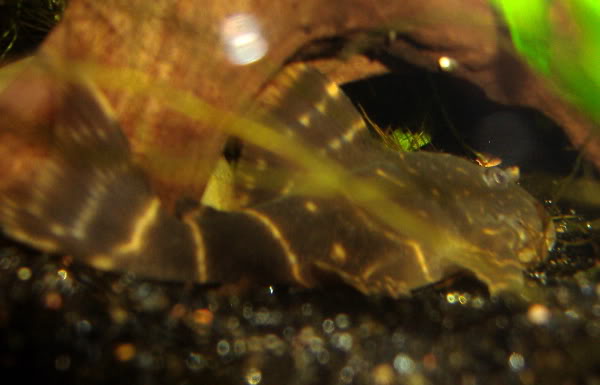 This clown pleco is diving into his den at lightning speed.
Wood Eating Catfish.
Several years ago, Dr. Jay Nelson of Towson University carried out research using
Panaqolus
(then known as
Panaque
) species, including
P. maccus
, and other loricariids, to show that wood-eating catfish convert wood into energy and will grow and prosper on a wood only diet.  His research and other research showed that wood-eating catfish, such as certain members of
Panaque
,
Panaqolus
, and one
Hypostomus
species, actually eat and process not only the cellulose layer but also the hemicellulose and lignin layers of wood.
P. maccus
uses its unusual spoon-shaped teeth (which look sort of like linoleum cutters, with round tops) to gouge through the bark to the wood beneath.  Its GI tract contains the necessary bacteria and fungi to break down and process the various components of wood, separately.  There are three PDFs of Jay Nelson's research papers available for anyone to read.  My own experience with this species has shown that they can, in fact, live and prosper on a wood only diet, but that is anecdotal information, not scientific research.  
Any aquarium-safe wood is fine for
P. maccus
, and a mixture of hard and soft woods is ideal.  The wood hypothesis used in Dr. Nelson's studies was the American red maple so I make sure I have some of that at all times in my Panaqolus tank.  I collect it at Maymont Park.  Wood is not very nutritious, and the little plecos need to eat a lot of it which is why I do not rely on wood alone, anymore.  Other catfish, primarily species of Loricariidae, scrape wood in order to eat the creatures which grow on wood, but they are not wood-eaters, in the scientific sense of the term.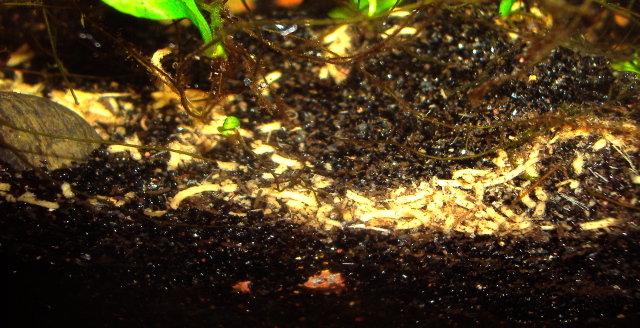 Red maple wood after it passes through the digestion of a clown pleco.
Sexual Dimorphism - How to tell male from female in this species?
It's fairly easy, if you can get a good look at certain key areas.  The most obvious difference in mature individuals are the bristly structures known as
odontodes
.  These will be far more abundant on the males, than on the females.
-
Cheek (interopercular) odontodes
, spring from the gill covers (operculum) and can be quite spiny.  Females have a few but a mature male will sport a thick crop and they will be longer.
-
Body or back (dorsum) odontodes
characterize the mature male in this species.  The covering will be heavy and obviously spiny.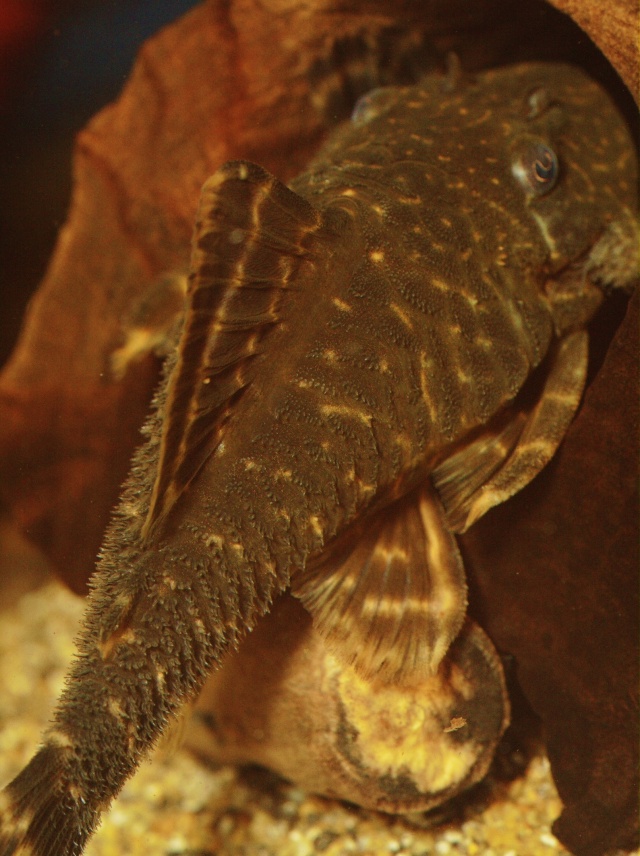 photo by Mats Petersson
This mature male shows spectacular dorsum ondontode growth - it's as bristly as a bottle brush!  Note the cheek odontodes, upper right.
Other bristly structures, known as
denticles
, adorn the edges of the pectoral fins.  Although more developed in the male of this species, denticle growth may be seen on females, too.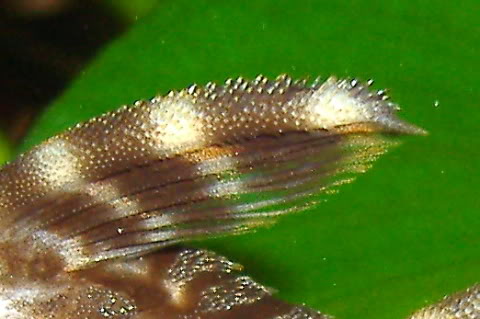 This photo shows pectoral denticle development on a female.
Scientific:
The clown pleco was known as
Panaque maccus
for many years, and it's listed that way in older literature and books.  In 2012, a revision of the genus placed certain smaller members of
Panaque
into the genus
Panaqolus
.  
Click here
for some interesting information about the reassignment and more links.
photos for this article are by Deb, except as noted.
A special thanks goes out to
Mats Petersson
, for his excellent photo of odontal growth on a male
P. maccus
.  Mats is well-known for his technical expertise on the
Planet Catfish
and, more recently,
Aquatic Republic
websites.  

 This is an article in progress. If you have clown plecos in your aquarium, or have had them in the past, please post about your experiences here. If you have a helpful photo, please post it.