This will be my second jarraraium, a heavily planted dirted tank for shrimp and snails only.  I found a great piece of driftwood in a strainer by the river that sounded very aged when struck.  I boiled it, let it soak overnight, and it sank like a brick the next day!  
Ive been reading a little on aquascaping and the rule of three when it comes to porportions and im looking for ideas.  
Heres what im working with:
-2.5 gallon cookie jar about 12" tall and 8.5" round
- Some anacharis for height.
-A clump of Bacopa from my other jar.
-Some java moss for foreground/midground cover.
-Thinking about capping with gravel in the background and part midground, and having a third of the tank be sand in the foreground and part midground to make a curved "stream bed" look.
Not sure what to put on the driftwood.  Maybe a clump of Java moss at the Y, or would that be too centered?  I guess the driftwood is my focal point, not sure where to put the tall and short plants around it.
Here is what I think is a good driftwood placement, when viewed from the front.  The sides of the jar refract the light in such a way that things dissapear if they are too close to the sides.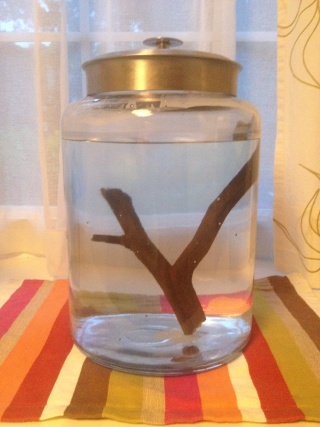 Here is what it looks like from the top. I have plenty of room to have a sand "stream bed" to come in diagonally either from left or right:
I dont know what side to have the tall plants on, and what do I do with the open space on the left? Leave it open, put an interesting rock there, put a plant there?  Thinking I would like a Val and a Crypt in there, but not sure where I would place them.