Hey everyone,
Sorry I had to miss the meeting, with the move coming I've been working lots of overtime! But I actually had some time on my hands to take some pictures of some awesome new additions to the fish fam. Hope you all enjoy and can't wait to catch up (hopefully at the next meeting:-) )
Meet Tupac and Biggie, the Tiger Oscars

(With Wiggums, the green severum)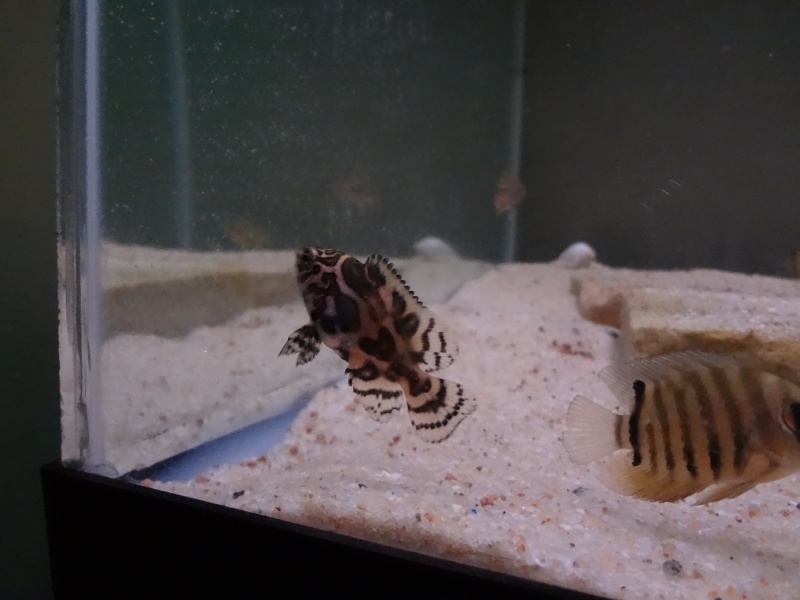 Flip has done some AWESOME stuff with a 75 planted. Here are some shots of some of the fish and the plants, particularly the Boesemani Rainbows.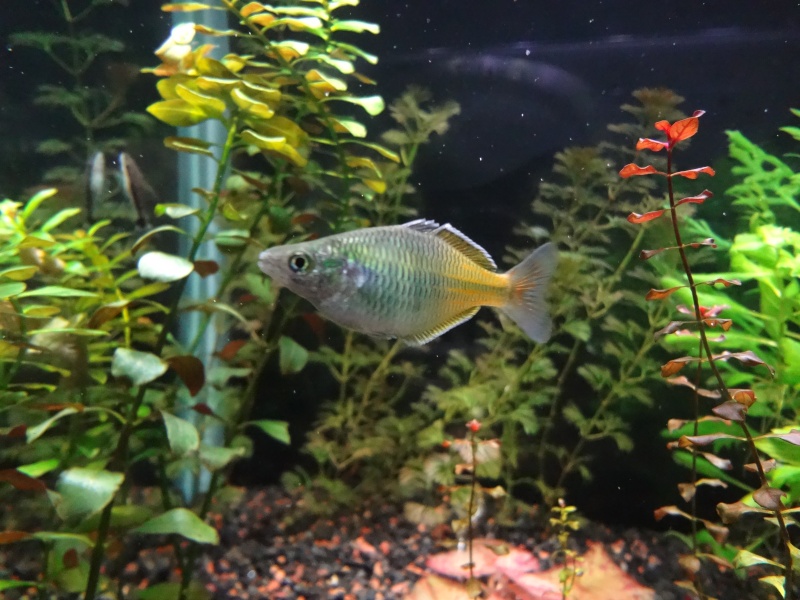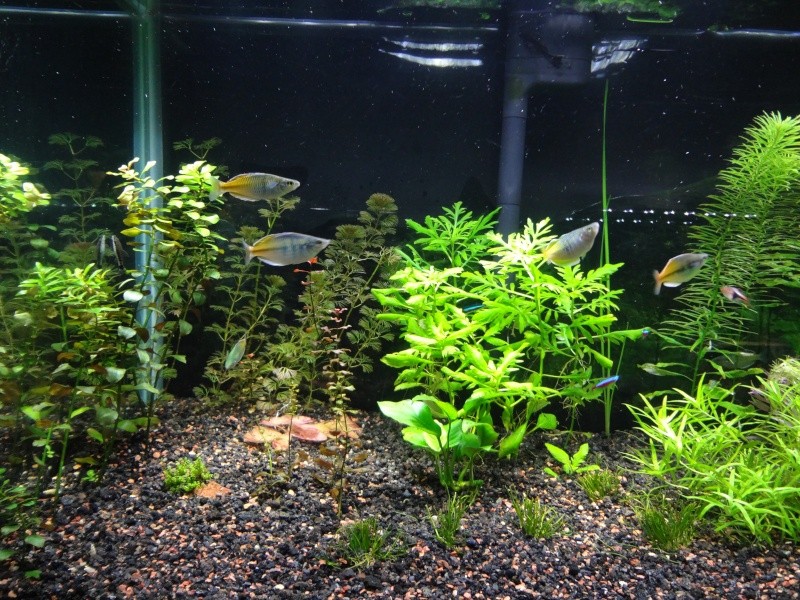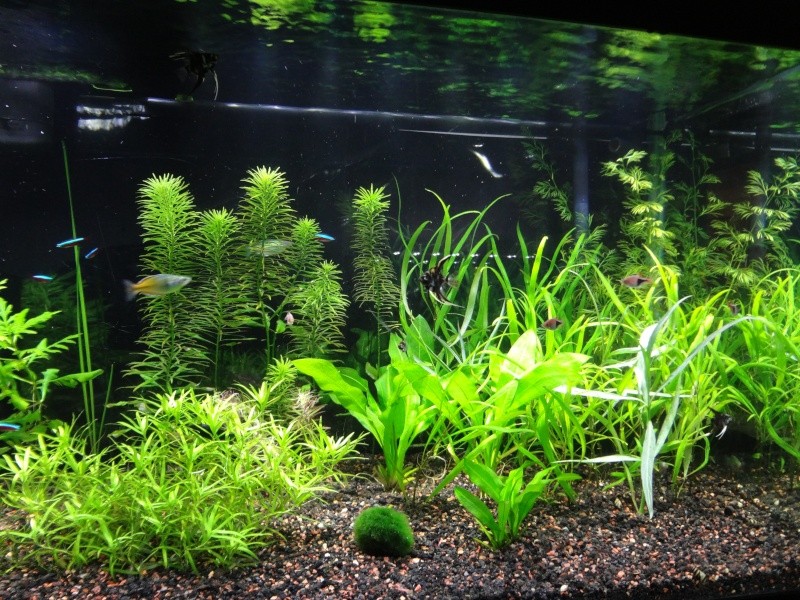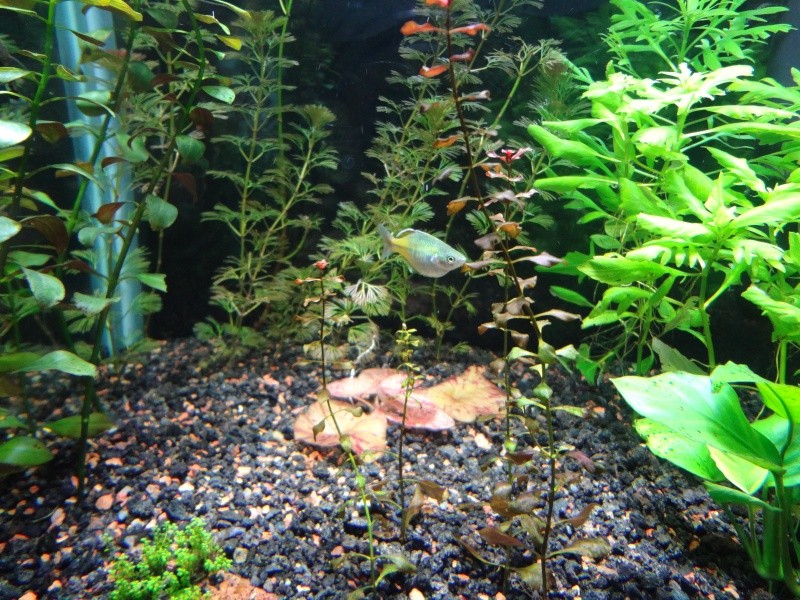 This Jack Dempsey is actually one we grew from a spawn - look how big he got!
Some updates of my 125 with all my babies:
Rocky, the Synspilum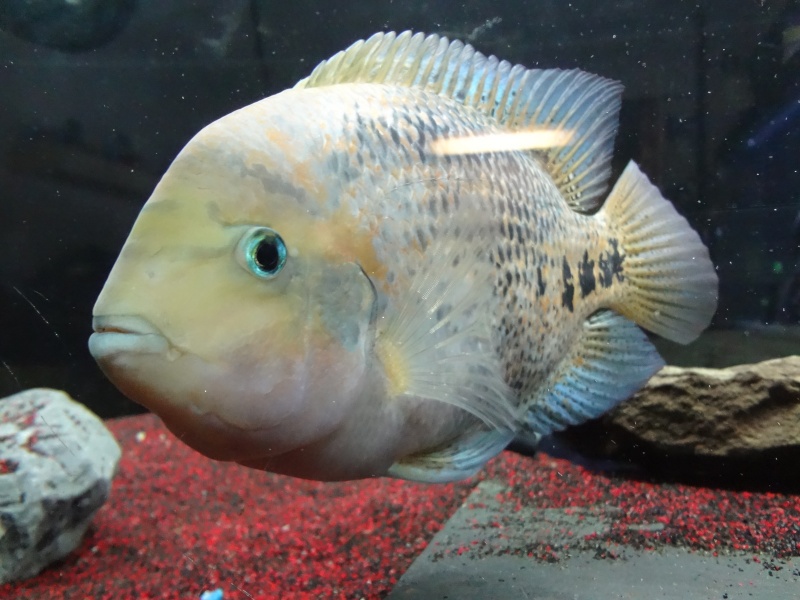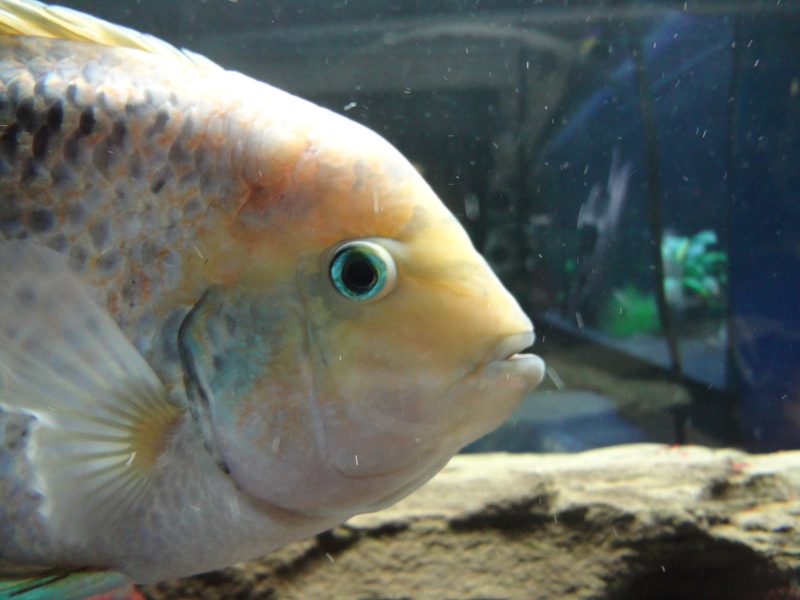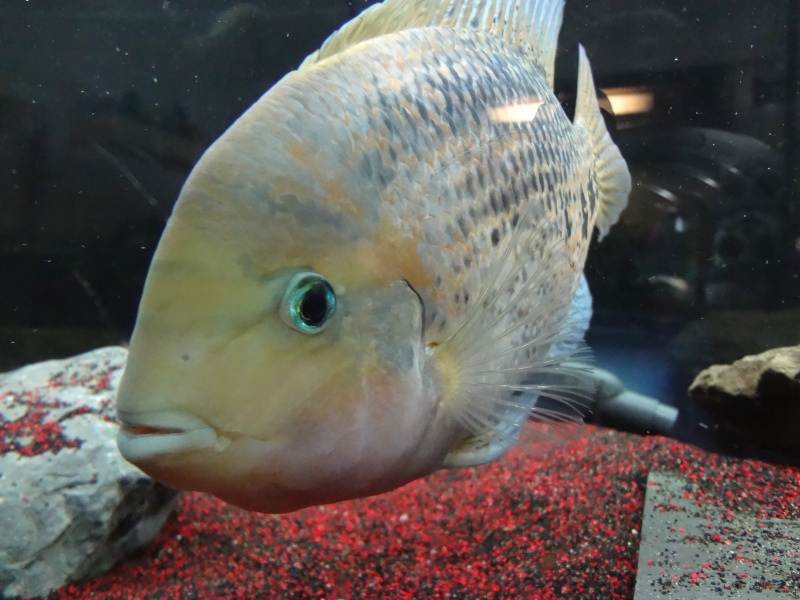 Mr. Vieja (Vieja Bifasciatum)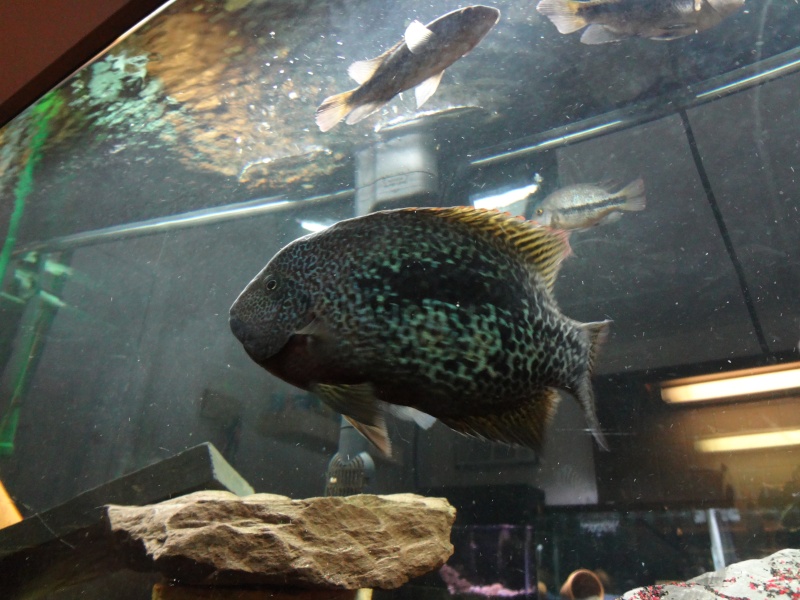 Princess Celestia, my Spotted Pike (and yes, she is my fat spoiled princess who eats from my hand AND recently has started letting me pet her!)
The super mean Firemouth: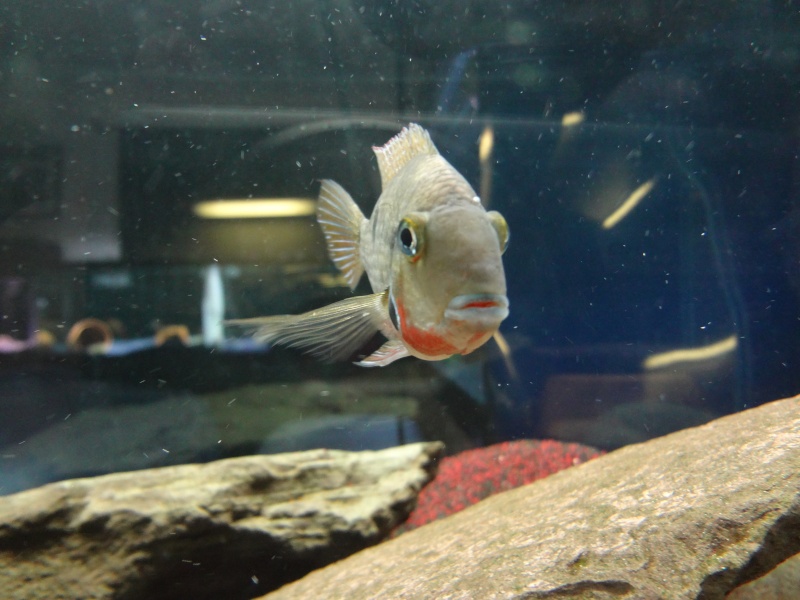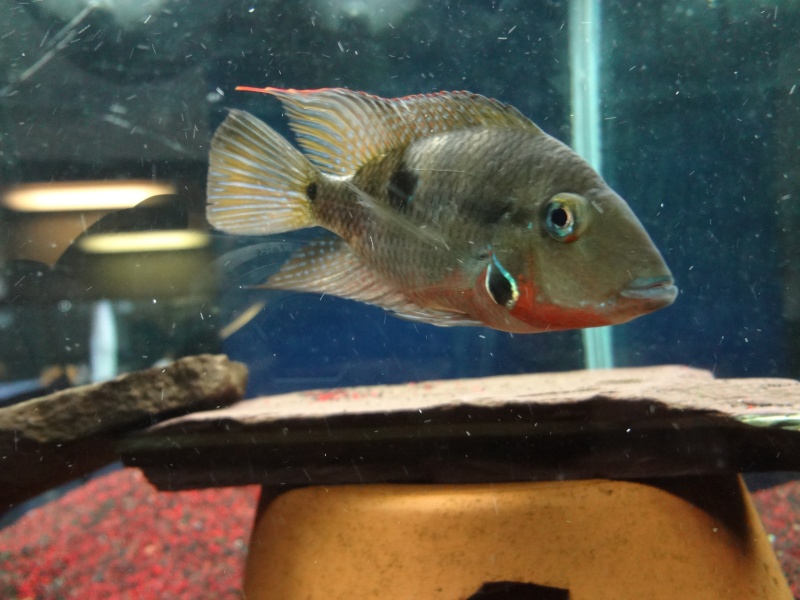 The Tiger Loach, and I kid you not, the meanest fish in my tank:
Vieja Fenestratus, they are growing bigger by the day: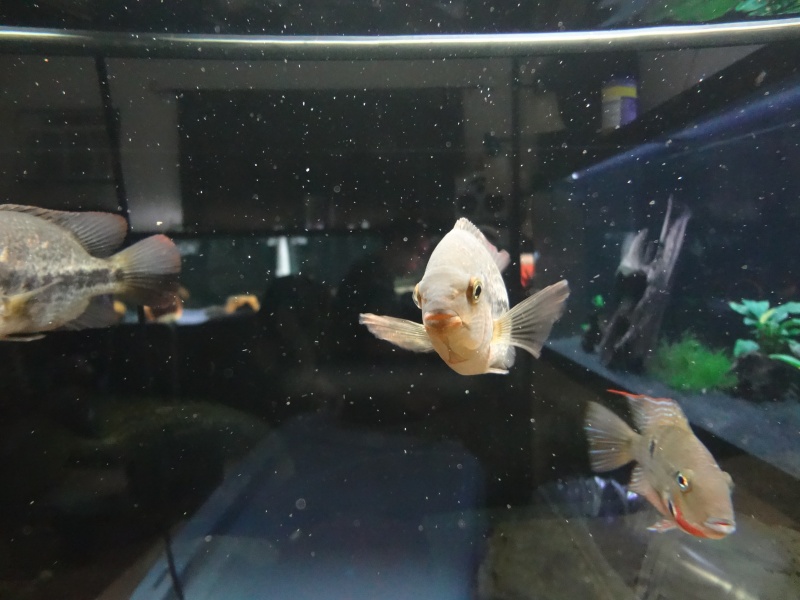 Lady Dovii, who, due to aggression issues towards my Viejas, is being rehomed shortly to a good home: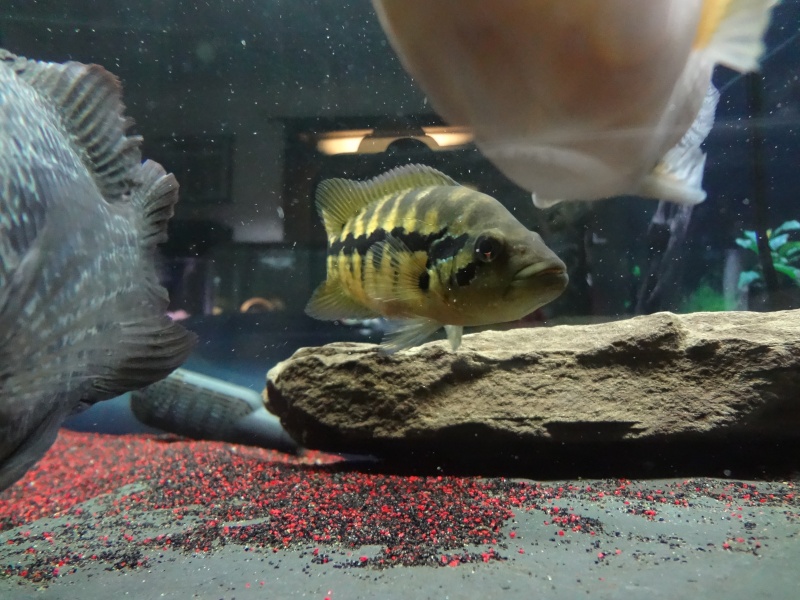 I also house a green terror and a honduran red point in the tank. Honestly I thought the HRP would have become food by now, but she holds her own, so as long as she does she can stay. Not a scale out of place or a fin shredded either and she takes on the firemouth and the green terror daily. It's quite amusing.
Anyone remember the calico convicts we got at Azalea? When we got Richard the Buttikoferi? (who is doing fantastically in his own tank, he's a good 5-6 inches and tolerates NOTHING and NOBODY in his tank so he's housed by himself.)
Anyways, they've spawned like a bajillion times, here's a pic of a convict that's pretty much all grown up: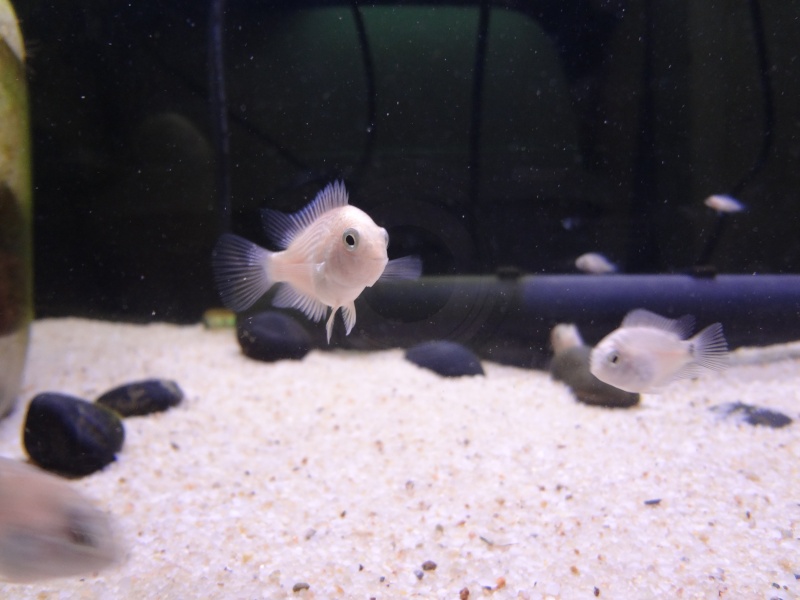 Here's Eelie, the Tiretrack Eel...I love this guy, he eats from my hand although he's incredibly camera shy as well as an escape artist:
The next set of pics is of an Angel fight I caught. Got some pretty good action shots.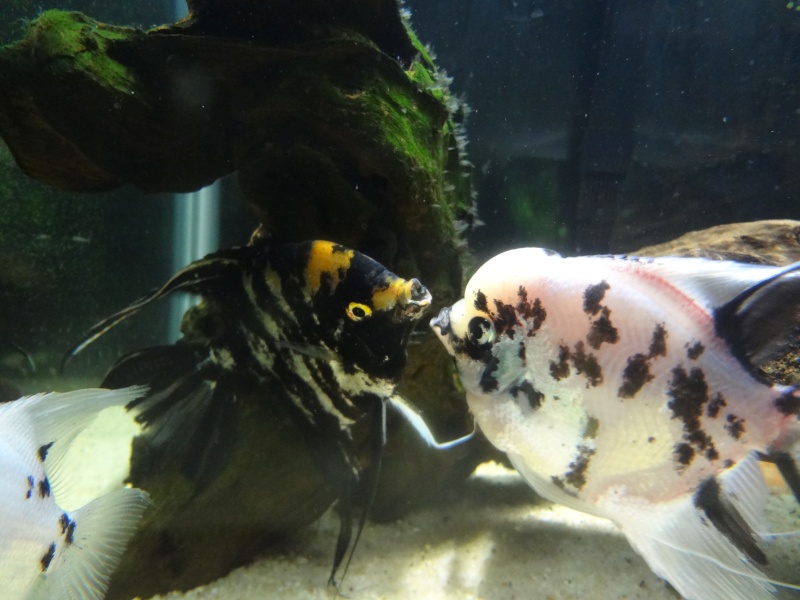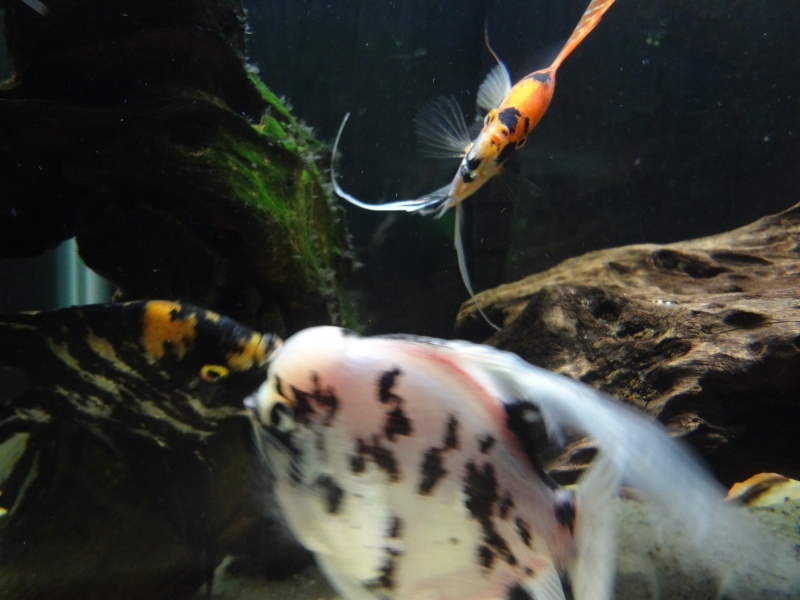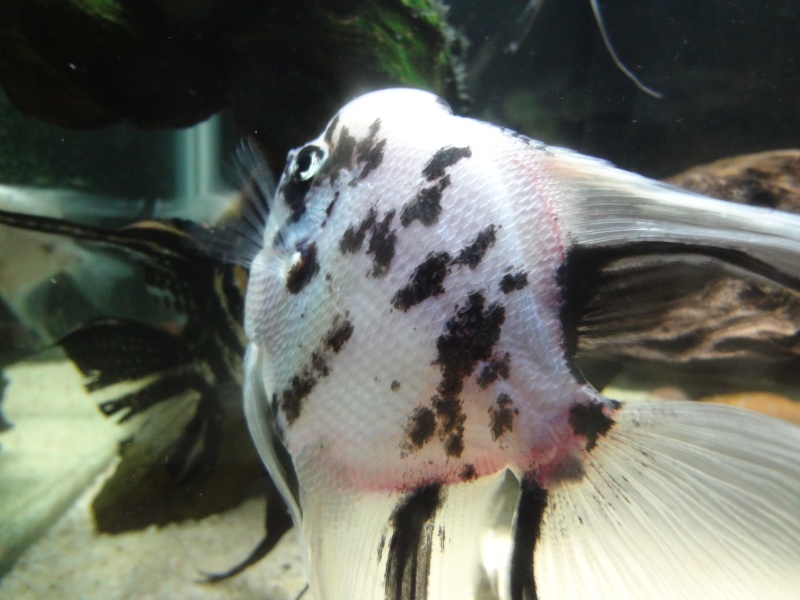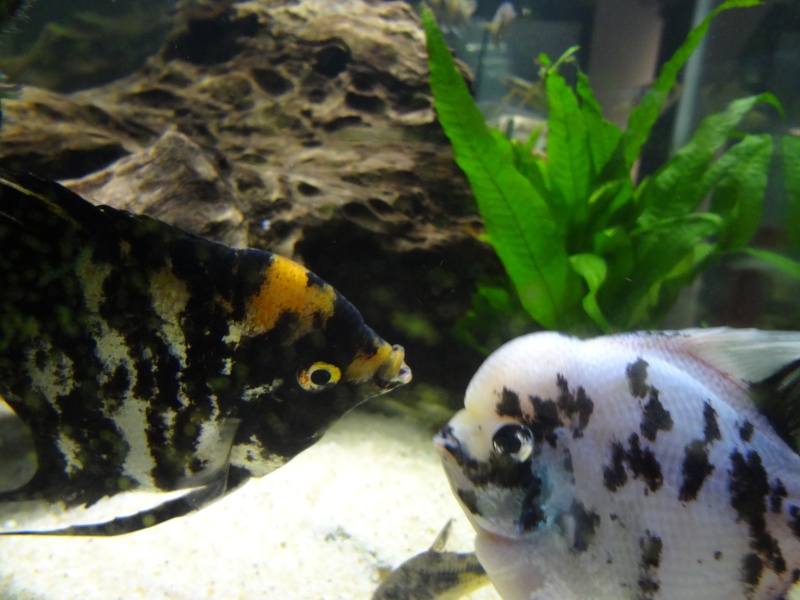 I dont think this guy really knew what to do...he would zoom in and zoom off...it was pretty funny.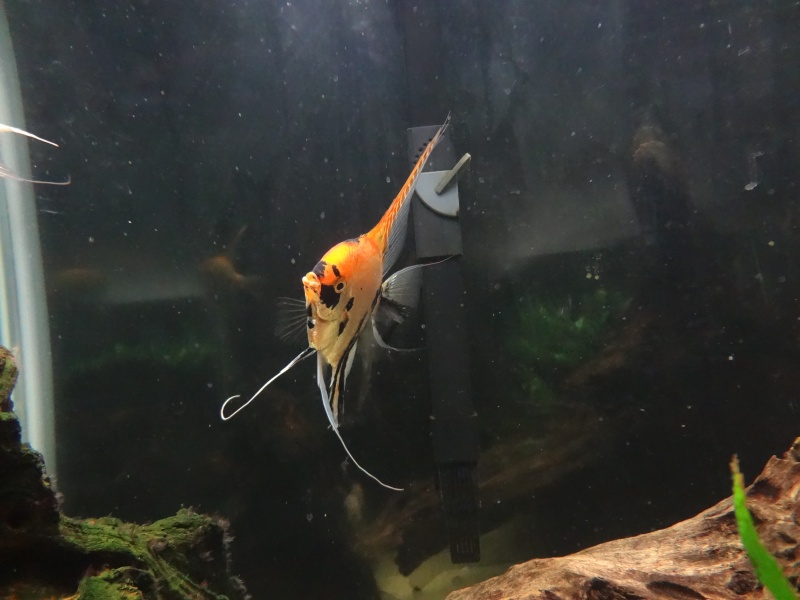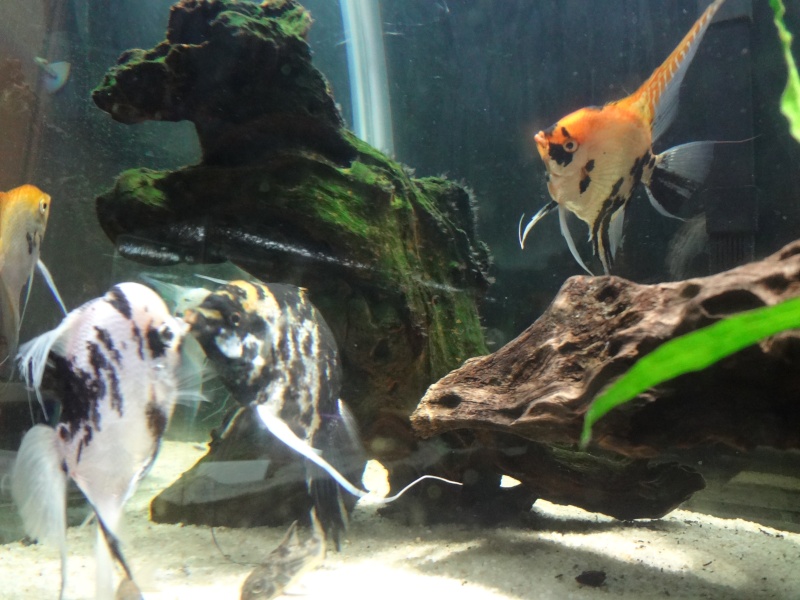 And while all this was going on, I snapped some pics of everyone's faves:
Mister Rumba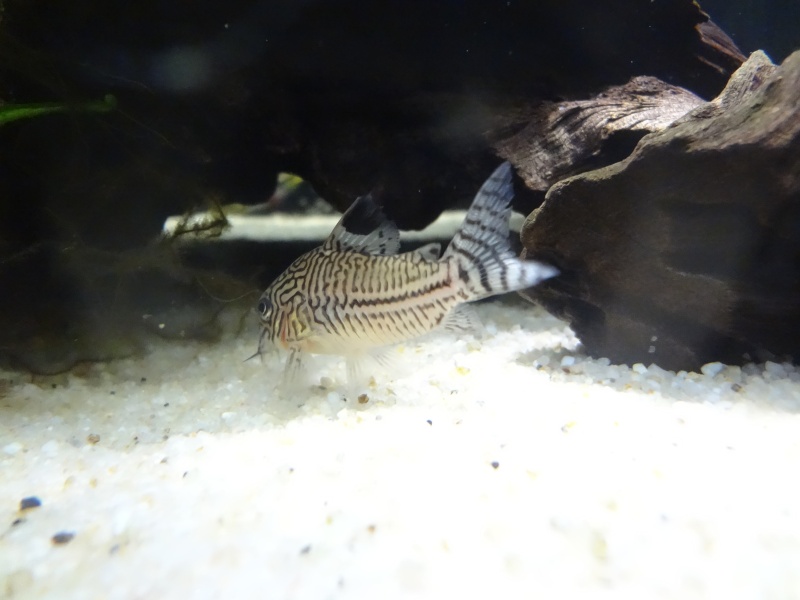 Buffalohead, Keyholes, and Kribensis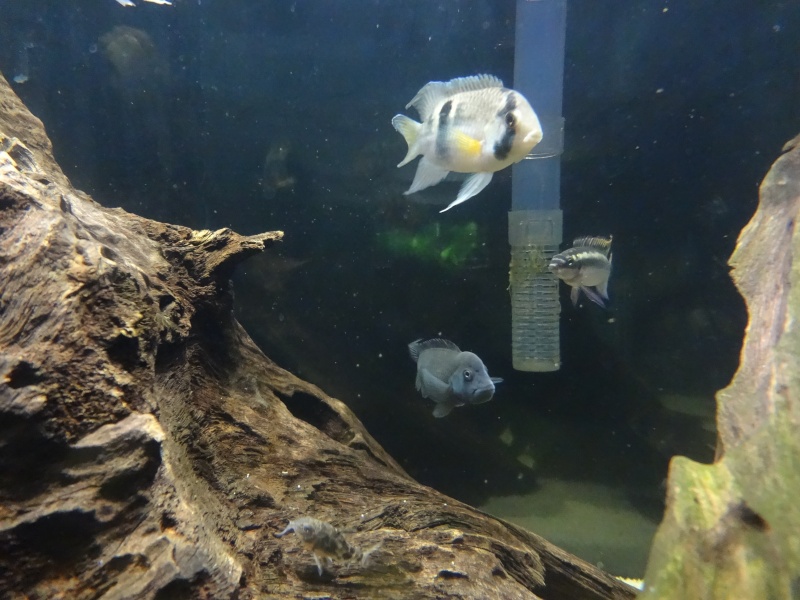 Here's a few more of my loves in my 125: (they get photographed the most, honestly.)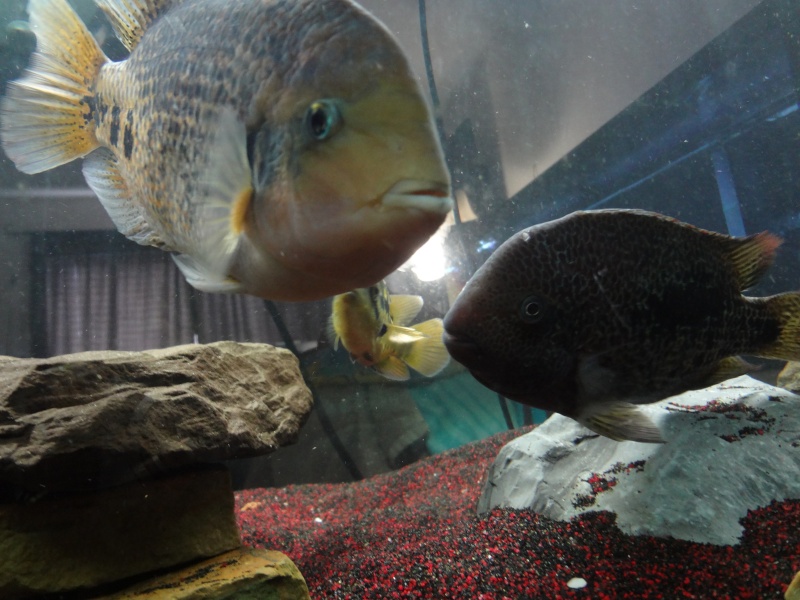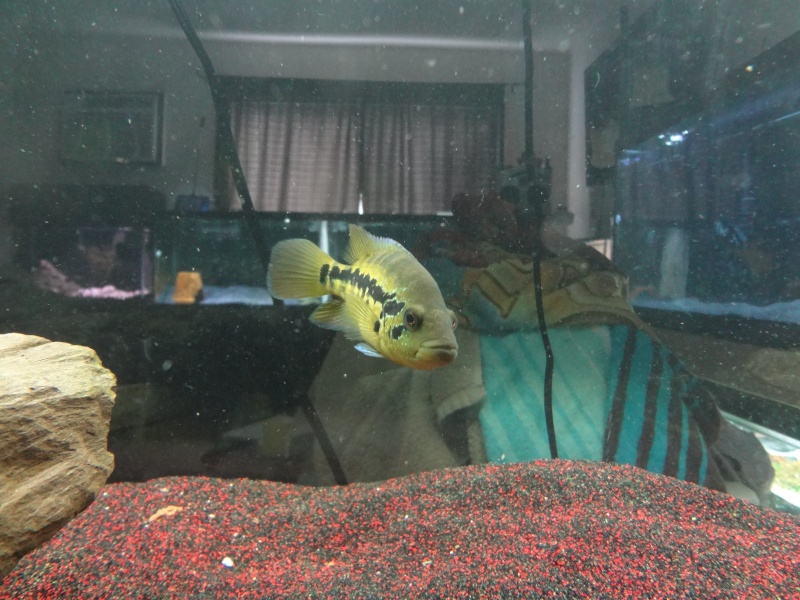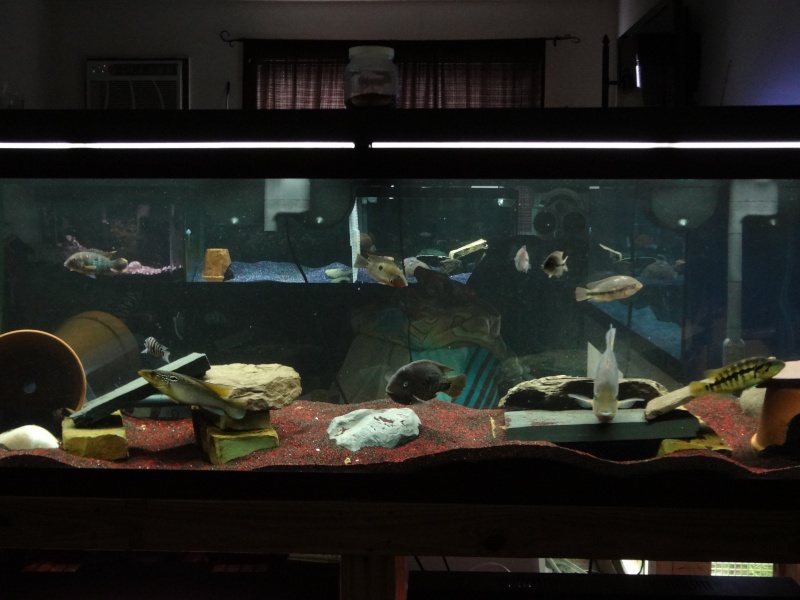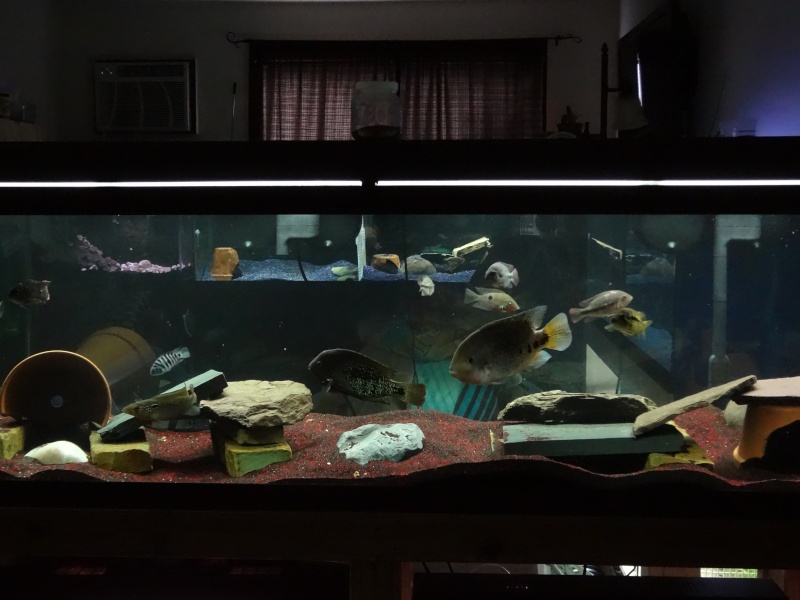 And of course, I still have the fabulous Vieja Argenteas. They are incredibly slow growing, but I'm loving how personable they have become and they get prettier and prettier the bigger they get. They move fast, but I was lucky this big one stopped and posed so very nicely for the camera: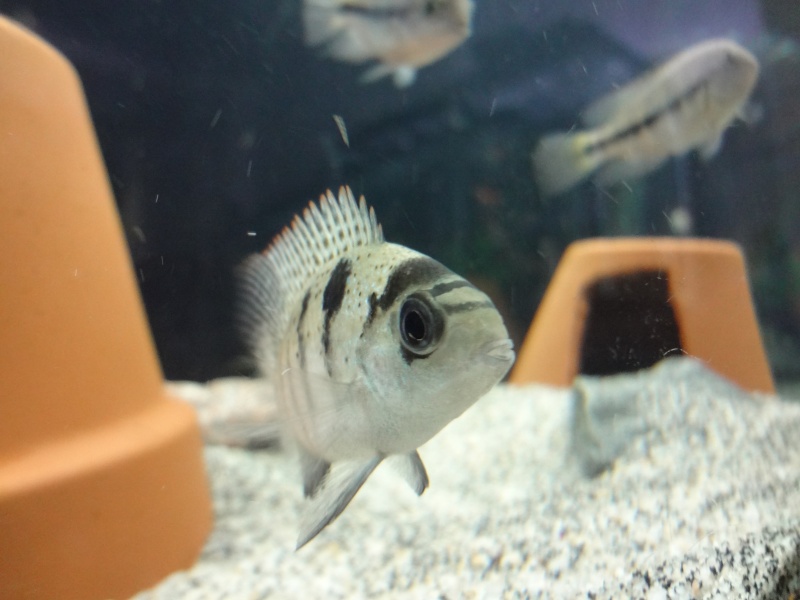 Also housed with them are two dwarf pikes. They are quite the fatties. I believe we have a male and female, and they have recently gotten quite cozy together...maybe fry soon?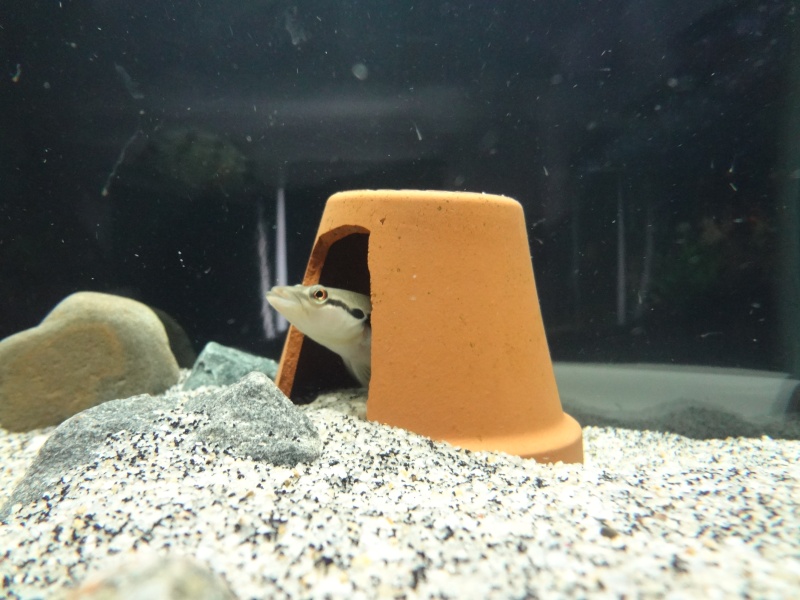 I believe the female is on the left, and the male is on the right. Female pikes seem to be a bit rounder on the underside, while males are pretty long and straight. This isn't a proven fact, just a hunch with the species I've seen.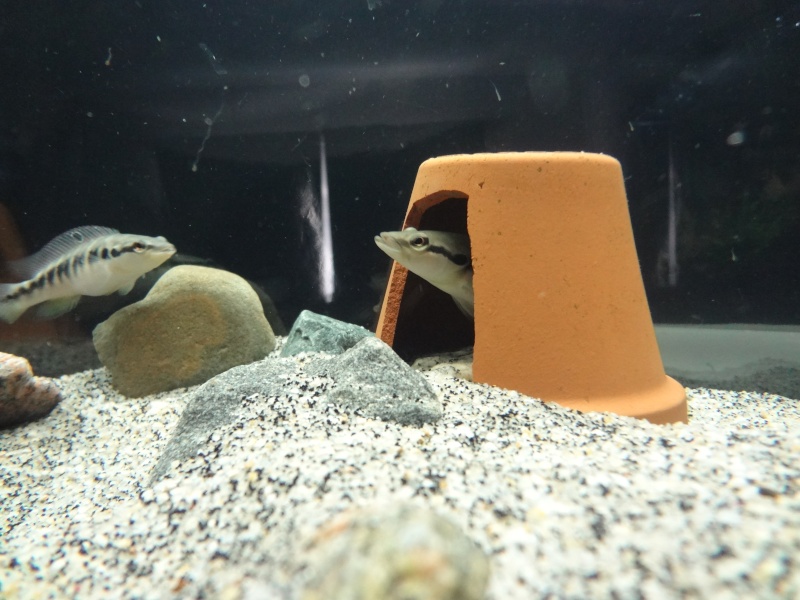 And last but not least, Jaws, Flip's peacock bass. What an awesome fish he's become. He has since been moved out of this planted tank but these pics of him I took I couldn't resist posting. He's at least twice this size, and these were taken maybe a month ago.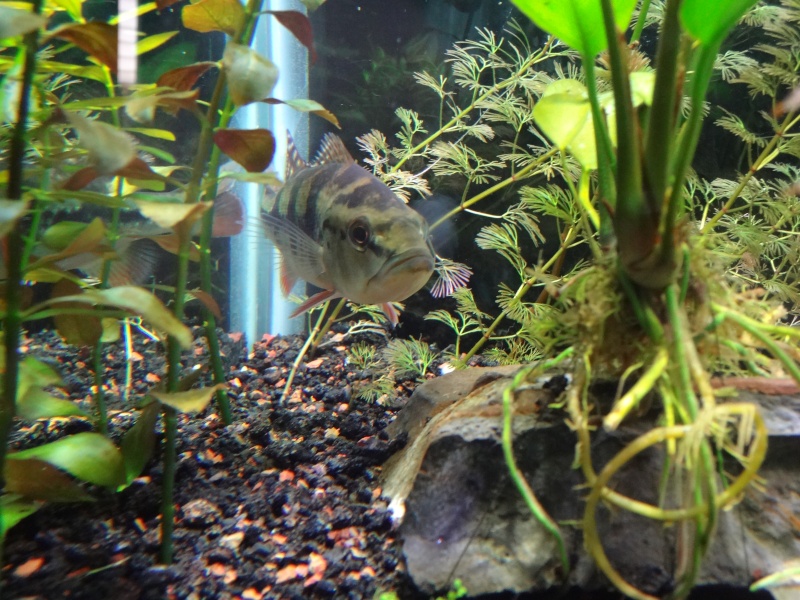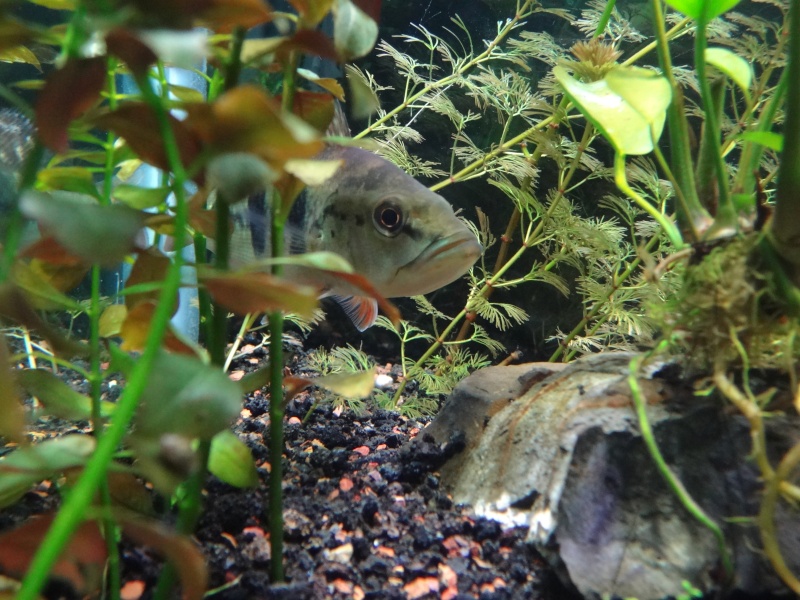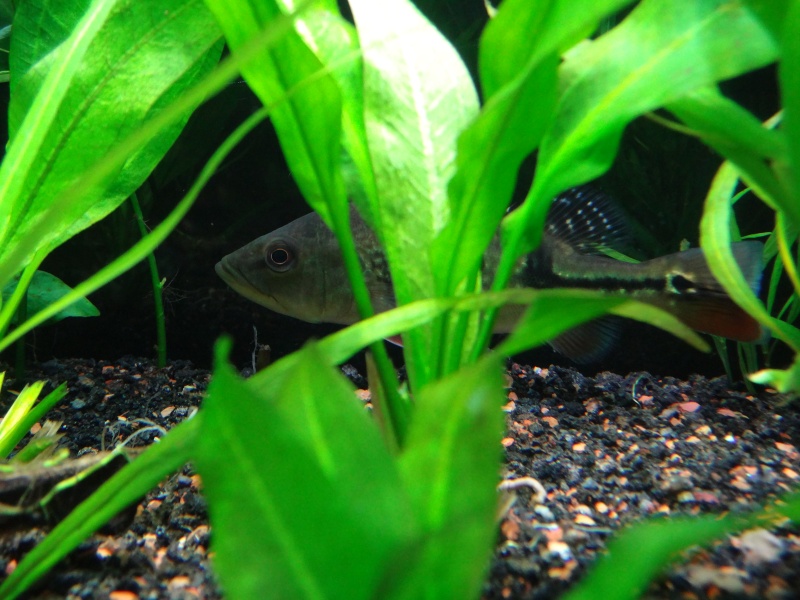 Ohgoodness, and how can I forget a pic of the festae? These fish change all sorts of colors throughout the day, I don't think they maintain one consistent color. One of the most beautiful fish I've come across in the hobby.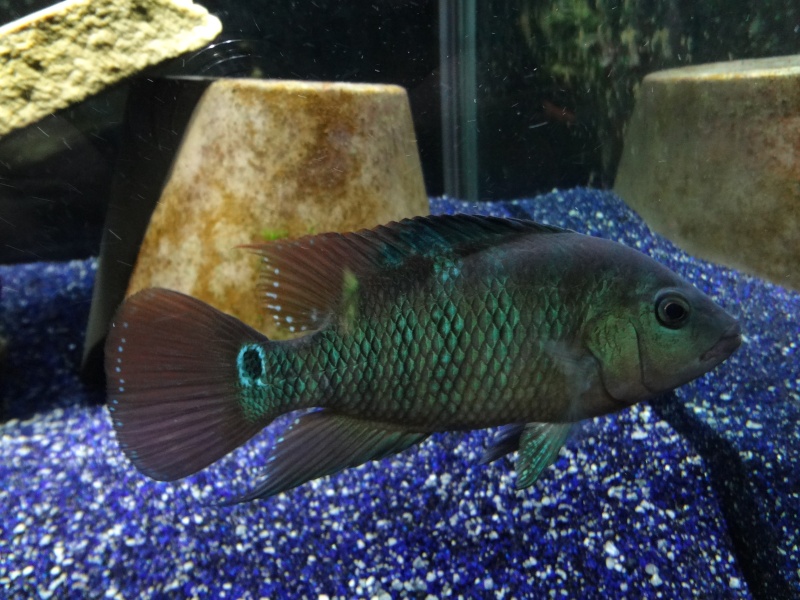 Here she is again; and YES this is the same fish: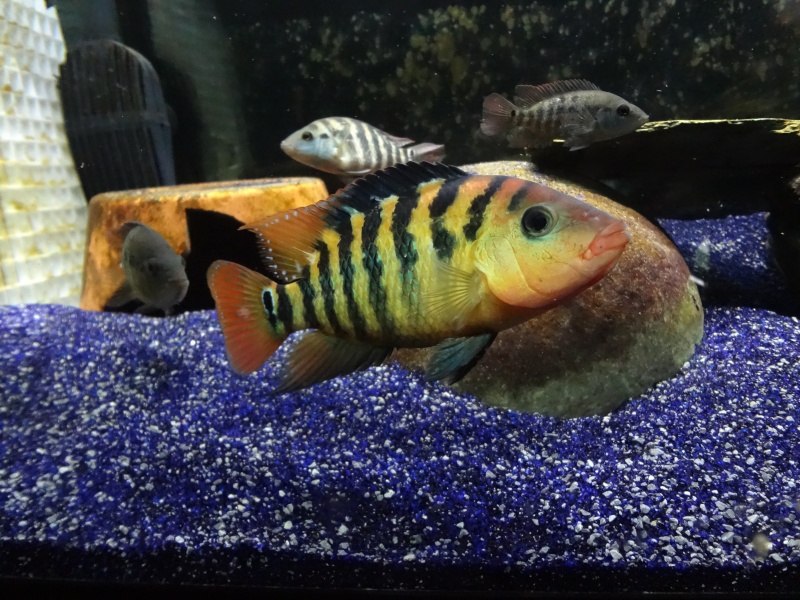 Remarkable, aren't they?
This last one is for Koolaid: When his flowerhorn and texas cichlid paired, he gave us about 7 fry. They are currently living with my sun catfish, Sonny, in a 55. They are growing super fast. They are hard to photograph, so this was the best shot I could get:
Koolaid, if you're reading this, they are doing fantastic and they have your typical flowerhorn personalities:-) They are all about 2-3 inches now.
Everyone, thanks for reading and viewing, I know it was long and I will try and update more often! Since Flip went to YouTube he hardly photographs anymore. You can search for his channel, Flippercon, to watch his videos - he has weekly updates on Jaws the Peacock Bass and fishroom and stock updates consistently as well. I'm sure he's got a link on here too. Thanks again and I hope to see everyone at the next meeting - hopefully our move will be over with and the fish room set up! If anyone is going to be in town any weekend during November that's when we will start the fish tank move and wouldn't mind some knowledgeable fish hands to help out. I work weekends so it is really going to be up to Flip to move the tanks unfortunately. Any help he can get will be most welcome, especially with the 125's.
Thanks again guys!